From the initial beginnings in 1993, IBCM has grown through seven international conferences, to become a well-recognised event now supported confidently across the world, This was evident from the 880 participants from 122 countries/territories at the 2019 conference in Rome.  The growth of IBCM  was led mainly by Fares Marzone, Neil Summerton,  Ken Newton and the late Paul Kalthoff, along with many volunteers who gave sacrificially of their time and resources to grow the event. The conferences, which are conducted every 4 years, have been coordinated by an International Planning Group (IPG) which until June 2019 comprised: Fares Marzone (Italy) (Chairman), Ian Burness (UK), Joel Hernandez (USA), Ken Newton (Australia), David Smith (Australia), Kelvin Samwata (Zambia), Neil Summerton (UK), Abraham Thomas (India), Russell Thorp (New Zealand).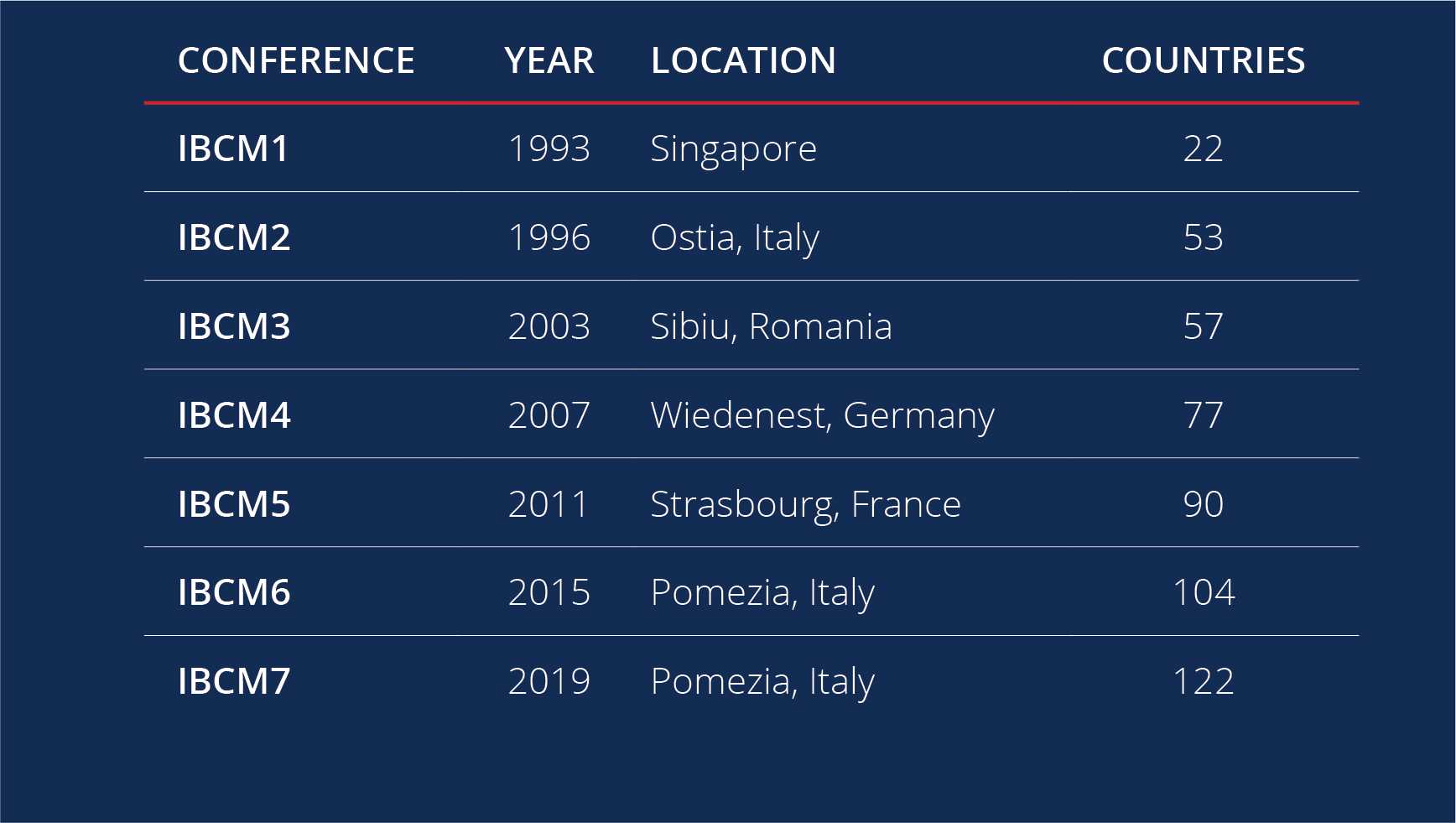 Leading up to IBCM7 it became increasingly clear that we had exceeded our capacity to deliver such a large event through volunteers only. It also became apparent that there was a growing desire for IBCM to develop its ministry on a number of fronts. Recognizing that IBCM now needed a legal entity, a UK charity, "IBCM Network", was registered in March 2019. This now allows the work of volunteers to be supported by the employment of supported staff, to deal realistically with the existing workload and take advantage of future opportunities.
IBCM Network is served by a trustee body comprising initially: Fares Marzone (Italy), Joel Hernandez (USA), David Smith (Australia), Neil Summerton, Philip Miles and Ian Burness (UK). The trustees are supported by an International Advisory Group (similar to the IPG) which is globally representative. Recently the board appointed Dr David Smith as International Director and Sanja Zurovac (Italy) as Administrator to continue the ministry of IBCM.

IBCM Network exists to serve the international Brethren community through:
strengthening leaders
encouraging churches
facilitating mission
connecting worldwide
INTERNATIONAL
Working with the regional planning groups IBCM Network will connect and serve the network worldwide through:
a global conference every 4 years
assisting the regional conference teams
facilitating global networks and communication
MISSION
Working with national mission agencies IBCM Network will facilitate mission endeavours locally and globally through:
worldwide communication on mission
mission partnership possibilities
an online mission connection centre
CHURCHES
Working with the national church leaders and organisations IBCM Network will encourage local churches worldwide through :
coordinated global communication
an international website and database
an online church resource centre
LEADERS
Working through BTN (Brethren Training Network), IBCM Network will strengthen leaders, trainers, and theologians worldwide through:
grassroots and accredited training
online forums
an online training resource centre
Privacy
IBCM relies on having up-to-date email addresses for literally thousands of contacts in the large number of countries where there are local churches connected with the Brethren movement. It is essential therefore that we should be provided with details whenever email addresses and other key contact details change. Please use contact us for this purpose. IBCM Network operates within the European Union. We take your privacy and the protection of your data very seriously.  It is held and processed as required by European legislation, in accordance with IBCMs privacy policy.